Arts & Culture Guide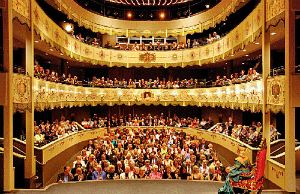 Referred to as the "Cultural Coast of Florida," Sarasota has a wide range of options available for those who enjoy the art in its many forms. From art venues to theatre companies, there is always something to do in downtown Sarasota.
Sarasota's rich cultural history dates back to its beginnings with the John and Mable Ringling Museum of Art, which is located on the shore of Sarasota Bay just a short distance north of the downtown area. Those who want to view inspiring works of art don't have to head to the bay, however, as downtown's State Street is home to the State of the Arts Gallery. Here, visitors can view museum-quality arts created as well as local artists.
Palm Avenue is also a popular choice for those who enjoy art and live music. Known as Sarasota's "Gallery Row," Palm Avenue is filled with artisans offering everything from hand-blown glass to sculptures and paintings. Every first Friday of the month, the First Friday Artwalk draws in people from all over the area as the galleries stay open until 9 PM and offer refreshments along with live music and other entertainment.
Additional art galleries can also be found along Main Street, which serves as the spine of the downtown Sarasota area. Not only does the street boast numerous art galleries, but many arts and crafts festivals take place on the street throughout the season. From Orange Avenue west to Gulfstream Avenue, restaurants offering an extensive variety of international cuisine can be enjoyed. The Towles Court Artist Colony is one of downtown's hidden treasures.
The nearby Burns Square district, which is considered to be part of downtown Sarasota despite being separated by a two-block row of office buildings, is also home to numerous cultural attractions. Featuring low, brightly-colored buildings featuring a variety of intriguing shops, the short walk to the square is certainly worthwhile. Other attractions include the Parkland Art Gallery, the Sarasota Art Film House and the Burns Court Cinema. Each Saturday, the square also hosts a small outdoor artists' market that is open to the public.
For the opera enthusiast, the Sarasota Opera House can be found on First Street. Having recently undergone extensive renovations, the Sarasota Opera House adds a classical European style to the downtown area. The nearby Florida Studio Theater and area restaurants, which are housed in character-filled older buildings, further add to the downtown theatre district charm.
Whether looking for opportunities to view art or to take in a live show, downtown Sarasota has much to offer. Couple that with the excellent dining establishments and unique shops, and there is always something to do in downtown Sarasota.