Downtown Sarasota Restaurants / Dining Guide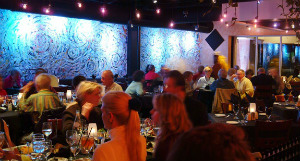 Thanks to its numerous restaurants and food-themed events and festivals, the downtown Sarasota Florida area is world-renowned for its excellent dining opportunities. From the Taste of Sarasota, which takes place each November, to the Forks and Corks Wine and Food Festival in January, you are almost guaranteed to find some sort of food-related event taking place at any time of the year.
Known primarily for its wealth of restaurants featuring international cuisine, downtown Sarasota offers visitors and residents an escape from the ordinary. On Main Street, in a section that runs from Orange Avenue west to Gulfstream Avenue, international dining opportunities include Chinese, French, Fusion, Greek, Italian, Pan-Asian, Spanish, Thai, Vietnamese and American.
After taking in a show at the Opera House or the Florida Studio Theater on First Street, live theatre enthusiasts can grab a bite to eat at restaurants such as the State Street Eating House, Selva Grill or Bijou Café. The Whole Foods Market Centre, which includes the Whole Foods Café, is also situated on First Street. Featuring an indoor café, a food bar and outdoor seating, many consider the café to be one of the best places to grab a bite to eat while soaking in the downtown scene.
Those who like to grab a variety of fresh foods to eat may want to venture down to Lemon Avenue from First Street to State Street. Here, the Downtown Farmers Market takes place every Saturday from 7 AM to 1 PM. With approximately 50 vendors selling their wares each week, the market typically includes fresh baked goods, fruits, meats and cheeses. Gluten-free foods and prepared takeout meals are also regularly available.
From elegant sit-down establishments to quick, takeout restaurants, downtown Sarasota is sure to have a dining opportunity to suit anyone's needs.
Downtown Sarasota Restaurant Directory
American/Continental
Boca Kitchen Bar Market (19 S. Lemon Ave., 941-256-3565)
Blue Rooster (1525 Fourth St, 941-388-7539)
Indigenous (239 S Links Ave., 941-706-4740)
Lila Vegan Friendly (1576 Main St, 941-296-1042)
Louies Modern (1289 N. Palm Ave. 941-954-6973)
MADE Restaurant (1990 Main St., 941-953-2900)
Mattisons City Grille ( 1 North Lemon Ave., 941-330-0440)
Patricks 1481 (1481 Main Street, 941-955-1481)
State Street Eating House (1533 State St., 941-951-1533)
Amish
Der Dutchman (3713 Bahia Vista, 941-955-8007 )
Yoder's (3434 Bahia Vista, 941-955-7771)
Asian/Chinese/Thai
Drunken Poet Thai Cafe (1572 Main Street, 941-955-8404)
Melange (1568 Main Street, 941-953-7111)
P.F. Changs (766 S. Osprey Ave., 941-296-6002)
Pho Cali Vietnamese Noodle House (1578 Main Street, 941-955-2683)
Tropical Thai (1420 Main Street, 941-364-5775)
Bakery/Cafe
Burns Court Café (401 S. Pineapple Ave, 941329-2882)
Pastry Art ( 1512 Main St., 941-955-7545)
BBQ
Bricks Smoked Meats (1528 State St, 941-993-1435)
Nancy's BBQ (301 S. Pineapple Ave.,  941-955-3400)
Breakfast
First Watch (1395 Main Street, 941-954-1395)
Fresh Start (630 S Orange Ave., 941-373-1242)
Station 400  (400 N Lemon Ave., 941-906-1400)
Toasted Mango Café (430 N Tamiami Trl., 941-552-6485)
Word of Mouth (711 S Osprey Ave., 941-365-1800)
Coffee
Coffee Carrousel (1644 Main St., 941-365-2826)
PERQ Coffee Bar (1821 Hillview St., 941-955-8101)
Starbucks (1401 1st St., 941-955-0273)
Deli & Sandwich Shops
Main Bar Sandwich Shop (1944 Main St., 941-955-8733)
French
Bijou Café (1287 1st Street, 941-366-8111)
C'est La Vie (1553 Main Street, 941-906-9575)
Le Bordeaux (1900 Main St, 941-366-6610)
Greek/Mediterranean
El Greco Mediterranean Cafe (1592 Main Street, 941-365-2234)
Mozaic Restaurant (1377 Main Street, 941-951-6272)
Italian
Beulah Italian Restaurant (1766 Main Street, 941-960-2305)
Cafe Amici Ristorante Italiano (1371 Main Street, 941-951-6896)
Cafe Epicure (1298 North Palm Avenue, 941-366-5648)
Caragiulos Italian Restaurant (69 South Palm Avenue, 941-951-0866)
Clasico Italian Chophouse (1341 Main St., 941-957-0700)
Il Panaficio Pizza & Bakery (1703 Main St., 941-366-5570)
Mediterraneo Italian (1970 Main St., 941-365-4122)
Mozzarella Fella (1668 Main Street, 941-366-7600)
Patellini's Pizza (1429 Main Street, 941-957-6433)
Salute! Restaurant (23 North Lemon Avenue, 941-365-1020)
Mexican/Latin
Two Senioritas Mexican (1355 Main Street, 941-366-1678)
Selva Grill Nuevo Latino (1345 Main Street, 941-362-4427)
Seafood
Barnacle Bill's Seafood Restaurant (1526 Main Street, 941-365-6800)
Jack Dusty at Ritz Carlton (1111 Ritz Carlton Dr, 941-309-2266)
Duval's Fresh Local Seafood (1435 Main Street, 941-312-4001)
Marina Jacks (2 Marina Plz.,  941-365-4232)
Owens Fish Camp (516 Burns Lane, 941-951-6936)
Steakhouse
Hyde Park Steakhouse (35 S Lemon Ave., 941-366-7788)
Sushi
Sake House (1987 Ringling Blvd., 941-312-6256)
Tsunami Sushi & Hibachi Grill  (100 Central Ave.,  941-366-1288)
Utamaro Sushi (1900 Main St., 941-366-0095)
Yume Sushi (1537 Main Street, 941-363-0604)
Tavern & Bar Food
Cask & Ale (1548 Main Street, 941-702-8740)
Evie's Taven & Grill (1560 Main St., 941-366-7711)
O'learys Tiki Bar & Grill (5 Bayfront Dr., 941-342-8875)
Pomona Bistro & Wine (481 N Orange Ave, 941-706-1677)
Social on First (1219 First St., 941-444-7072)